Trump and Republicans Are Delivering for Americans
Original dated 5/21/2018.  Additions have date of update at end of entry.
Last update 10/17/2018.
You can contrast accomplishments of Trump, listed below, with the disasters of the Democrats, listed at https://fairfaxgop.org/democrat-disasters/.  8/18/2018
The economy
Jobs and the economy
Passage of the tax reform bill providing $5.5 billion in tax cuts for almost every citizen[1].
Repealing the Obamacare mandate so religious people are not required to insure for abortions.
Gross domestic product increased at a 4.2 percent annualized rate, the Commerce Department said in its second estimate of GDP growth for the 2nd quarter of 2018 — over "impossible barrier" of 4%. 8/29/2018
Created 1.7 million new jobs, cutting unemployment to 3.7%, a 50-year low, with black unemployment at 6.0% and Hispanic unemployment at 4.5%, both also the lowest in 50 years.  Job openings hit a record 7.136 million for the month of August 2018. 10/17/2018
Implemented policies that caused a record high Dow Jones, benefitting all pension funds and 401k's. 10/3/2018
Implemented policies that give people economic confidence, the indicator now at a 17-year high.
Implemented a new executive order to boost apprenticeship, preparing people for jobs.
Moved to boost computer sciences in Education Department programs to train people for jobs.
Prioritized women-owned businesses in some $500 million in SBA loans to give women a greater chance to develop a business.
Limited H1-B visas for people who would compete with U.S. citizens for jobs.
Enforcing laws against companies that hire illegal immigrants, thereby opening employment to U.S. workers.
Relieved community banks and credit unions of onerous Dodd-Frank requirements, so consumers, small businesses, and farmers can get loans more readily. 5/25/18
Maintains economic policies that continue to benefit all.  401k's benefit: In The Washington Post, Thomas Heath writes that the "U.S. stock markets smashed records Thursday [9/20/2018]" as the economy continues to flourish. Heath notes that "it's the S&P's 19th record close this year and its 89th since the 2016 elections. The Dow recorded its 12th new closing high of the year and its 100th new high since the presidential election." Also, all workers benefit: Reuters reports, "The number of Americans filing for unemployment benefits unexpectedly fell last week, hitting near a 49-year low in a sign the job market remains strong." "Initial claims for state unemployment benefits fell by 3,000 to a seasonally adjusted level of 201,000 for the week ended Sept. 15, the Labor Department said on Thursday. That is the lowest level since November 1969." 9/21/18
Increased average hourly wage, with further increases likely due to a shortage of workers. 10/12/2018
Killing job-stifling regulations
Signed an Executive Order demanding that two regulations be killed for every new one created.
Cut 16 rules and regulations for every one created, saving $8.1 billion.
Signed 15 congressional regulatory cuts, freeing businesses to expand.
Withdrew from Obama-era Paris Climate Agreement, ending the threat of foreign environmental regulations.
Signed an Executive Order cutting the time for infrastructure-permit approvals so roads can be built[2].
Eliminated an Obama rule on streams that had impoverished particularly the coal workers.
Fair trade
Made good on his campaign promise to withdraw from the Trans-Pacific Partnership so more-fair trade agreements could be negotiated[3].
Renegotiated the North American Free Trade Agreement.  Got a better, fairer deal with Mexico and Canada so U.S. jobs will increase. 10/3/2018
Worked to bring companies back to the U.S. Many companies now plan to open U.S. plants.
Worked to promote the sale of U.S products abroad, increasing jobs in the U.S.
Made enforcement of U.S. trade laws a priority, especially those that involve national security.
Ended Obama's deal with Cuba, stopping preferential treatment of Communism.
Enacted tariffs pending re-negotiation of trade agreements that would be fairer to U.S. workers.
Public safety
Protecting the U.S. homeland
Developed new principles for reforming immigration, so the immigrants bolster, not drain, the economy.
Announced plan to end "chain migration" whereby one immigrant can bring in many relatives.
Made progress to build the border wall with Mexico, preventing many criminals from entering the U.S.
Ended the Obama-era "catch and release" of illegal immigrants, which enabled immigrants to disappear into our country.Boosted the arrests of illegals inside the U.S., without immediate release.
Doubled the number of counties participating with Immigration and Customs Enforcement (ICE).
Removed 36 percent more criminal gang members than Obama did in fiscal 2016.
Started the end of the Deferred Action for Childhood Arrival program.
Started the end of other amnesty programs like Deferred Action for

Stopped crossing the border

Parents of Americans.

Cracking down on some 300 sanctuary cities that defy ICE but still get federal dollars.
Added some 100 new immigration judges to speed the refugee clearances.
Added 5000 border-patrol agents[4].
Captured top ISIS commanders[5]
Restricted immigration from high-risk countries.
Added social-media vetting to background checks of those seeking to immigrate.
Reinstated the US Navy's famous 2nd fleet, which was deactivated in 2011, to increase the Navy's strategic flexibility to respond from the Eastern Seaboard all the way to the Barents Sea, which abuts Russia's northern coastline. 8/29/2018
Law Enforcement
Granting via the Dept of Justice $98 million to fund 802 new police officers[6].
Worked with Central American nations via Dept of Justice to arrest and charge 4,000 MS-13 members.
Arrested nearly 800 MS-13 members, via Dept of Homeland Security, an 83 percent one-year increase.
Signed three executive orders aimed at cracking down on international criminal organizations.
Created National Public Safety Partnership with cities to reduce violent crimes, via Attorney General Sessions.
Rescinded, via Attorney General Sessions, an Obama Administration memo that directed the Bureau of Prisons to begin phasing out private prisons so we have space for the added arrested criminals.
Signed executive order to develop a strategy for reducing crime in general, including illegal immigration, drug trafficking, and violent crime.
Had Attorney General Sessions ask the remaining U.S. attorneys appointed by Obama, part of the Deep State, to resign.
Reversed Obama limitations on military equipment police departments could purchase, thereby strengthening police protection of citizens.
Guns
Reversed Obama-era executive branch gun regulations, ensuring gun owners can protect themselves[7].
Ended Operation Choke Point, an Obama program that encouraged banks not to do business with "high risk" businesses (i.e., conservatives and gun dealers).  Ending makes all businesses benefit, especially those discriminated against by Obama.
Signed bill repealing Obama-era law that made those receiving Supplemental Security Income potentially ineligible for gun ownership despite being mentally healthy.
Restoring confidence in and respect for America
Won the release of Americans held abroad, using his personal relationships with world leaders[8].
Made good on a campaign promise to recognize Jerusalem as the capital of Israel.
Conducted an historic 12-day trip through Asia, winning new cooperative deals.
Attended three regional summits in Asia to promote American interests.
Traveled to the Middle East and Europe to build new relationships with leaders.
Traveled to Poland and to Germany for the G-20 meeting where he advocated for funding of women entrepreneurs.
Had ICE carry out a 2004 order for deportation for Jakiw Palij, a former Nazi SS labor camp guard in German-occupied Poland. Past administrations were unsuccessful in expelling Palij from America.[19] 8/21/2018
Boosting U.S. energy dominance
Increased the U.S. oil and gas supply by having the Dept of Energy allow drilling in the Gulf of Mexico, making the U.S. less dependent on oil coming from hostile nations[9].
Expanded energy infrastructure projects like the Keystone XL Pipeline that was impeded by Obama so the price of gas and gasoline will decrease.
Ordered the Environmental Protection Agency to kill Obama's Clean Power Plan so the cost of energy production would be decreased, decreasing the price of electricity.
Traveled the world to promote the sale and use of U.S. energy.
Reconsidering Obama rules on allowable levels of methane emissions.
Promoting peace through strength
Directed the rebuilding of the military so we can negotiate through strength[10].
Ordered a review of the national strategy and nuclear posture.
Worked to increase defense spending to strengthen the military.
Empowered military leaders to "seize the initiative and win," reducing the need for a White House sign off on every mission and allowing the military to do what it does best.
Directed the revival of the National Space Council to develop space-war strategies.
Elevated U.S. Cyber Command into a major warfighting command.
Withdrew from the U.N. Global Compact on Migration, which threatened U.S. borders.
Imposed a travel ban on nations that lack border and anti-terrorism security.
Saw ISIS lose virtually all of its territory.
Taking strong action against global outlaw North Korea and its development of nuclear weapons.
Negotiated successfully for the release of three hostages from North Korea.
Announced a new Afghanistan strategy that strengthens support for U.S. forces at war with terrorism.
Convinced NATO to increase support for the war in Afghanistan.
Approved a new Iran strategy plan focused on neutralizing the country's influence in the region.
Ordered missile strikes against a Syrian airbase used in a chemical weapons attack.
Prevented subsequent chemical attacks by improving methods for detecting chemical weapons.
Ordered new sanctions on the dictatorship in Venezuela.
Issued an executive order directing federal agencies to increase the production of important minerals on which the U.S. is currently dependent on Chinese and Russian imports.
Healthcare
Health Insurance
Allowed insurance companies to reach across state lines, thereby reducing healthcare costs by increasing competition[11].
Ended Obamacare subsidies, which had been ruled unconstitutional.
Ended the mandatory tax penalty on those not purchasing health insurance.
Instituting methods for decreasing the cost of medicines.
Signed Right-To-Try legislation so "terminally ill" patients can use medicines and treatments not yet approved by the Food and Drug Administration. 5/31/18
Helping veterans
Signed the Veterans Accountability and Whistleblower Protection Act so employees are protected when they report inefficient and illegal activities within the Dept of Veterans Affairs (the VA).
Instituted policy by which senior officials in the VA may fire failing employees
Signed the VA Improvement and Modernization Act.
Signed the Harry W. Colmery Veterans Educational Assistance Act, to provide support for veterans.
Signed the VA Choice and Quality Employment Act, authorizing additional $2.1 billion for Veterans Choice Program, permitting veterans to get medical help outside the VA[12].
Created a VA hotline.
Had the VA launch an online "Access and Quality Tool," providing veterans with a way to access wait time and quality of care data.
Expanded GI benefits for veterans, including removing a 15-year time limit on using GI benefits and giving veterans additional payments for science, engineering, and technology courses at universities.
Instituted, with VA Secretary Dr. David Shulkin, three initiatives to expand access to healthcare for veterans using telehealth technology.
Signed an executive order directing the federal government to expand mental health services for veterans in order to reduce the number of veteran suicides.
Combatting opioids
Declared a Nationwide Public Health Emergency on opioids to help those addicted by them and prevent future addiction[13].
Determined via Council of Economic Advisors that opioid overdoses are underreported by 24%.
Designed, via Dept of Health and Human Services, a five-point strategy to fight the opioid crisis.
Declared, via Dept of Justice, fentanyl substances a drug class under the Controlled Substances Act.
Started, via Dept of Justice, a fraud crackdown, arresting more than 400 drug dealers.
Added $500 million to the budget to fight the opioid crisis.
Collected, via the Drug Enforcement Agency, 456 tons of drugs on National Drug Take Back Day.
Family welfare
Protecting life
Reinstated and expanded the Mexico City Policy, blocking $9 billion in foreign aid being used for abortions, the killing of defenseless, innocent human beings.
Overturned, with Congress, an Obama regulation that blocked states from defunding abortion providers.
Published guidance to block Obamacare's requirement that taxpayer money support abortion.
Annulled Obama regulation permitting states to require that those receiving Title X funds to perform abortions.
Ended federal contribution to United Nations Population Fund because it funded abortions.
Education
Appointed Elisabeth DeVos as Secretary of Education, a strong advocate of home schooling and charter schools by which minorities can be better educated[14].
Returned more control of schools to local government but not requiring that they provide school choice.
Poverty
Rescinded, via the Dept of Health and Human Services, an Obama-era directive that had allowed states to request a waiver to ignore work requirements for the poor in order to receive welfare, thereby requiring the able-bodied to experience the ennobling satisfaction of working and following in the footsteps of Star Parker[15] of the Center for Urban Renewal and Education and Arthur Brooks of the American Enterprise Institute.
Attacked food-stamp fraud.
Religious Liberty
Allowed insurance companies to reach across state lines, thereby reducing healthcare costs by increasing competition.
Allowing employers not to provide contraceptives if employer had religious objections.[16]
Reduced IRS restrictions against political activities by tax-exempt religious organizations.
Protecting religious liberty, via the Dept of Agriculture, by ensuring that Christians who opposed homosexual "marriage" would not be discriminated against for their beliefs.
Removed regulations restricting religious universities from receiving federal money.
Government
Nominated 73 federal judges and won nomination of two judges to the Supreme Court who have great respect for the U.S. Constitution, Neil Gorsuch and Brett Kavanaugh[17]. 10/12/2018
Ordered ethical standards including a lobbying ban, decreasing the number of former government workers who lobby their government friends.
Ordered an overhaul to modernize the digital government – its computers and software – making the government more efficient.
Called for a comprehensive plan to reorganize the executive branch to decrease its cost and our taxes.
Called for a full audit of the Pentagon and its spending, to decrease its cost and our taxes.
Ended, via Attorney General Sessions, Obama policy by criminally charged companies could avoid prosecution if they donated to Obama-selected third-party groups.
Banned, via EPA Director, scientists who receive EPA grants from serving on the agency's independent advisory boards, thereby avoiding having board members with any conflicts of interest.
Repealed net-neutrality regulations to keep government from deciding what is politically balanced.
Issued executive order to strengthen accountability of federal employees and to make it easier to fire poor performers in the federal government. 5/28/2018
Issued executive order that creates a federal labor-relations working group to analyze union contracts with the federal government. It also makes it harder for federal unions, at the expense of the taxpayer, to appeal firings and to lobby Congress. 5/28/2018
Issued executive order that is aimed at reducing waste and expenditures and requires federal employees to spend at least 75 percent of their time working on the job they were hired to do, as opposed to working on federal union work. It will also allow the federal government to start charging unions for office space in federal buildings. 5/28/2018
Unifying the U.S.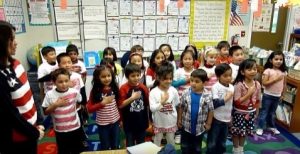 Working to overcome the grouping into which the Democrats have divided the nation, seeking instead to foster one nation, the traditional melting pot[18].
Changed focus of immigration services from integration to assimilation, renaming Citizens and Integration Services to Citizens and Assimilation Services.
Rescinded Obama's policies requiring schools receiving federal aid to accommodate transgenders.
Ended federal lawsuit against North Carolina's "bathroom bill".
Ended Clinton/Obama policy of declaring June as LGBT Pride month.
Banned transgenders from serving in military (with some exceptions).
Reversed interpretation by Dept of Justice that "gender identity" is included under the Civil Rights Act.
Appointed Valerie Huber, an abstinence education advocate, to the position of chief of staff to the assistant secretary for health at the HHS.
Total items listed: 131 original + 4 additions.

Star Parker reports some of the above accomplishments, plus many others, at: (9/14/2018)
https://blackcommunitynews.com/trumps-accomplishments/
Photo credits:
[1] https://www.youtube.com/watch?v=aA_lDYSInf8
[2] https://www.youtube.com/watch?v=SDXpCG6l1SE
[3] https://www.youtube.com/watch?v=aa8HMfBPgiY
[4] https://www.youtube.com/watch?v=hOeSgKs94t0
[5] http://www.dailymail.co.uk/news/article-5713603/Iraq-used-Baghdadi-aides-phone-capture-Islamic-State-commanders.html
[6] https://www.youtube.com/watch?v=mUy6d_Xe7Co
[7] https://www.youtube.com/watch?v=NIwf3d7hP9g
[8] https://www.youtube.com/watch?v=vQ6Hl_Fqy14
[9] https://www.youtube.com/watch?v=KZxUiFFVEAQ
[10] https://www.youtube.com/watch?v=IpOBwbwg7-s
[11] https://www.youtube.com/results?search_query=trump+ends+mandatory+health+insurance
[12] https://www.youtube.com/watch?v=5IXcA8YcppY
[13] https://www.youtube.com/watch?v=N4-rrw6NO1g
[14] https://www.youtube.com/watch?v=lTpZBPJmRHU
[15] https://www.youtube.com/watch?v=aouXDVPa_SY
[16] https://www.youtube.com/watch?v=5n3L75jpUlg
[17] https://www.youtube.com/watch?v=if9YbpISP2o
[18] https://www.youtube.com/watch?v=_kOEg55vewU
[19] http://www.foxnews.com/politics/2018/08/21/nazi-labor-camp-guard-caught-by-ice-deported-to-germany-white-house-says.html