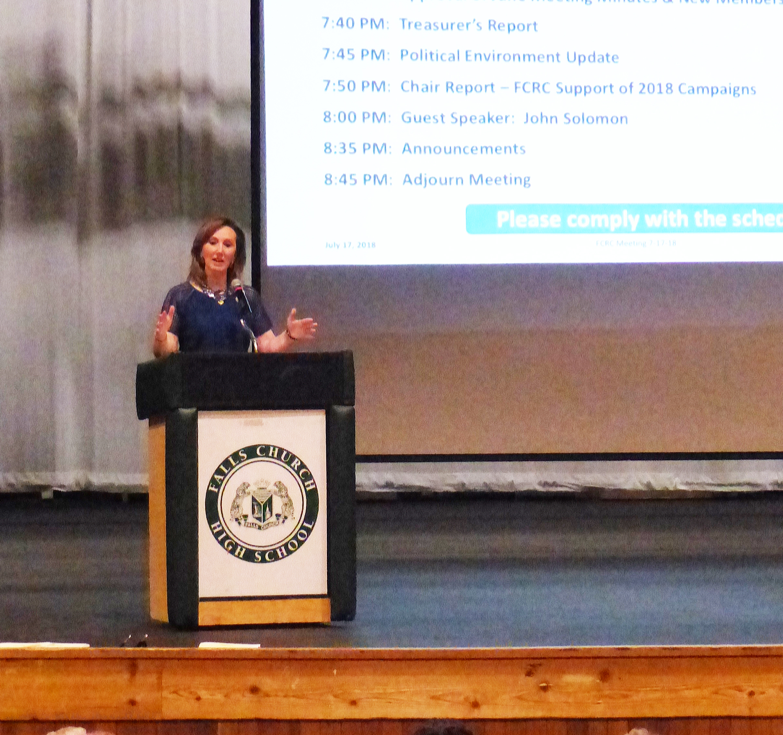 Congresswoman Barbara Comstock (R, VA-10), Republican candidate for Congress in Virginia's 11th District, Jeff Dove, and award-winning investigative journalist John Solomon all addressed the well-attended monthly meeting of the Fairfax County Republican Committee (FCRC) at Falls Church High School on July 17.
Congresswoman Comstock excited the crowd with a recitation of the accomplishments of the Republican-led House of Representatives during the current term. Those included passing of the 2017 federal tax cut that has rejuvenated the American economy, repeal of the defense sequester that weakened American defenses under the Obama Administration and adversely affected job opportunities in Northern Virginia, and legislation to defeat human trafficking.
While in Congress, she has aggressively worked with law enforcement to fight gang violence and the opioid epidemic in Northern Virginia, advocated vigorously for the technology sector as the center for growth in the region, and promoted innovative transportation solutions.
Congresswoman Comstock also warned the audience of the tax-increasing dangers of electing a Democrat House led by the likes of Nancy Pelosi and Maxine Waters. As has been her custom in politics, she is waging an aggressive, grassroots, door-to-door campaign to retain her seat in the upcoming election and help ensure Republicans retain an all-important majority in the House of Representatives.
Republican candidate Jeff Dove pointed out in his talk that incumbent Congressman Gerry Connolly (D, VA-11) derogatorily called him a "puppet" in Connolly's latest fundraising letter to supporters. Congressman Connolly accused candidate Dove of not being able to think for himself. Mr. Dove called on citizens to challenge such name-calling and other shameful behavior by our elected officials. Watch him make his point below.
Award-winning journalist and current Executive Vice President of The Hill newspaper John Solomon explained and criticized the steep decline in the quality and ethics of American journalism over his long career in that field.
View below Mr. Solomon's remarks on journalism, his in-the-know insights into Washington's current intrigues, and his candid responses to the many questions from audience members who question today's reporting and are dissatisfied with the obfuscations and dissemblances of too many media and political figures. A riveting performance!
In the past 18 months, Mr. Solomon has broken major investigative stories, including revelations that prompted multiple Congressional committees to interview an undercover FBI informant, who chronicled how Russia's nuclear industry engaged in bribery while winning favorable decisions from the Obama administration.
Prior to joining The Hill, Mr. Solomon was the Chief Operating Officer of Circa.com, where his team amassed an audience of 100 million monthly users. Before that he served as Editor and Vice President for Content and Business Development at The Washington Times and worked for two decades at The Associated Press, rising to become the No. 2 executive in its Washington bureau.
All-in-all, a very informative and entertaining FCRC meeting. Please join us at our future monthly meetings where we will continue our practice of offering expert speakers, informed political dialogue, and pleasant fellowship.